The Animal Legal Defense Fund, the nation's preeminent legal advocacy organization for animals, has released the 15th annual year-end U.S. Animal Protection Laws Rankings Report (2020), ranking the animal protection laws of all 50 states.  
Thanks to its new Courtroom Animal Advocate Program, Maine takes first place — followed by Illinois (2), Oregon (3), Colorado (4), and Rhode Island (5). This year New Mexico sunk to 50th place, followed by Wyoming (49), Idaho (48), Mississippi (47), and Alabama (46) rounding out states with the weakest animal protection laws.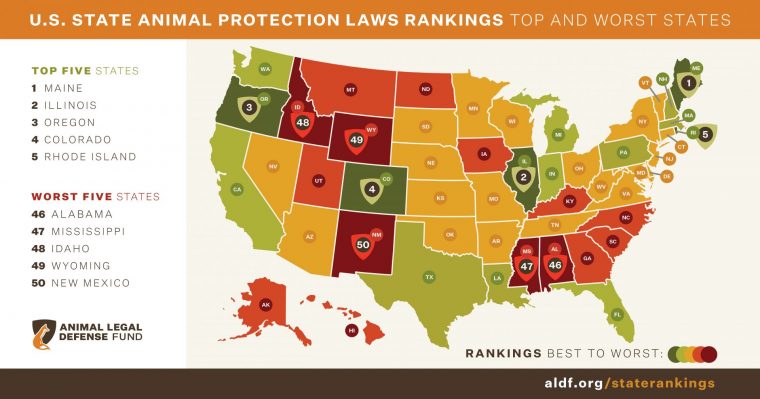 The most improved jurisdictions this year were Iowa (38) and Northern Mariana Islands (ranked 5th out of the 6 United States territories). Both enacted comprehensive animal protection legislation in 2020. Previously, Northern Mariana Islands did not have any animal protection laws whatsoever, and they have now laid a foundation of broad protections. Iowa was previously ranked 49th but rose 11 ranks in 2020 by thoroughly updating its protections for certain categories of animals.
A continuing trend over the past several years is laws regarding possession bans, a sentencing measure in which courts prohibit convicted offenders from owning or residing in the same household as an animal. This year, four states created or strengthened their possession ban statutes. A new trend in 2020 was stronger laws relating to necessary shelter for animals. This year, four states amended their laws to provide greater detail for what kind of shelter guardians must provide to protect their animals from the elements and inclement weather.
"Even in the tumultuous year that was 2020, we saw enormous strides being made to better protect animals, including several jurisdictions completely overhauling their animal cruelty laws," says Animal Legal Defense Fund Executive Director Stephen Wells. "The Animal Legal Defense Fund is proud that our comprehensive annual Rankings Report serve as a valuable tool for legislators, who use them to thoroughly examine and strengthen their states' animal protection laws."
The Rankings are based on a comprehensive review of each jurisdiction's animal protection laws, including over 3,000 pages of statutes. This is the longest-running and most authoritative report of its kind and tracks which states are taking animal protection seriously.
The full report, including details about each state, is available at aldf.org/staterankings. 
---
Featured image: a lounging cat. Image credit Michael Frank Franz, CC BY-SA 2.0.