Dog racing has blood on its hands. After decades of denial, American greyhound breeders have been caught red-handed. We now have proof that live lure training isn't just a myth. It's a reality. GREY2K USA investigators have revealed a multi-state conspiracy of cruelty involving the torture and killing of innocent rabbits to "blood" greyhounds.
Watch our undercover video now.
In live lure training, small animals are used to excite and enhance a chase instinct in young dogs. Typically, screaming animals are dangled before greyhounds, dragged in front of them on ropes, or simply set loose to be attacked. They suffer cruel and miserable deaths. In March 2020, we documented at least 45 greyhounds killing dozens of jackrabbits over a two-day period on a farm in Keota, Oklahoma, and similar activities were witnessed in Elgin, Texas and Abilene, Kansas in June and July.
Take action now to enforce federal and state anti-cruelty laws against heartless greyhound breeders.
This is a cruel and craven network that encompasses key racing states across the country. The individuals shown "blooding" or baiting greyhounds have business connections with dog racing participants in multiple jurisdictions. One of the people caught on tape is Oklahoma greyhound breeder Wesley L. Parvin, who co-owns at least seven active racing dogs with Steve Sarras, President of the West Virginia Kennel Owners Association. Historically, the two have purchased, trained and co-owned at least thirty-six registered greyhounds.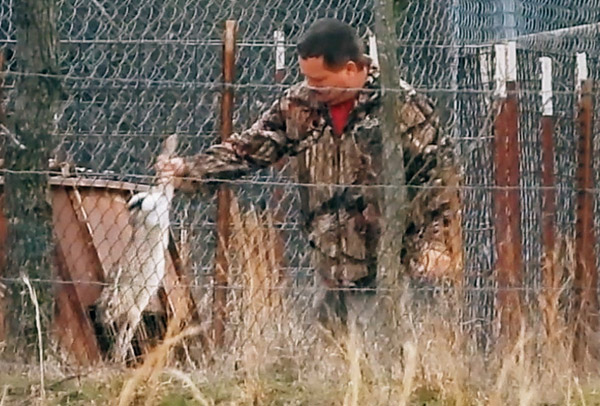 Another person we caught torturing animals is Jason Martin, who is the former Chief of Police of the town where the baiting occurred, and now serves as a Haskell County Deputy Sheriff. He is currently licensed to race greyhounds in West Virginia as well as in Florida.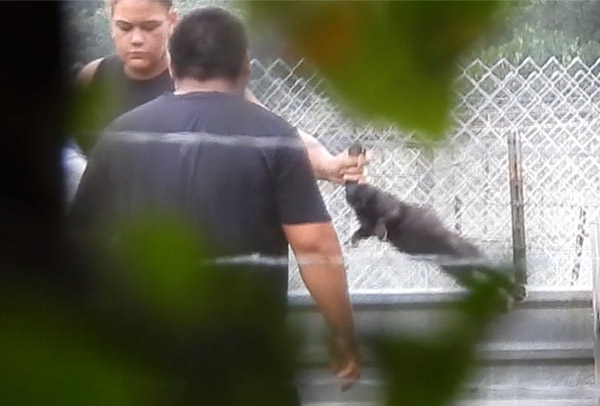 In Texas, live lure activities appear to be orchestrated by third generation greyhound breeder Tori Michelle Shepherd, whose social media commentary reads that she learned how to train greyhounds from her grandfather. The Shepherd farm breeds and trains dogs for use in racing all across the country, including West Virginia and Florida. Tori's namesake "Torrington" is one of several dogs owned by Byron Jay Childs, a member of the board of directors of the National Greyhound Association.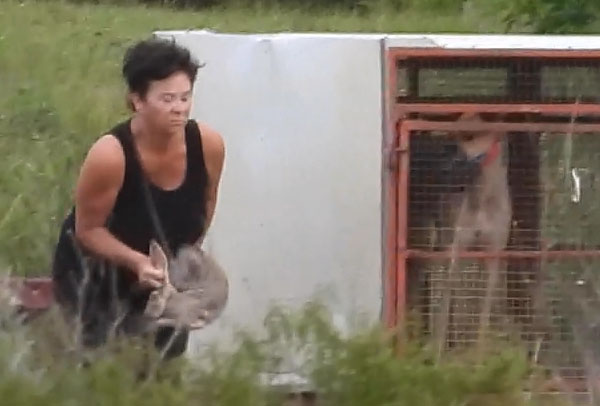 In Kansas, our investigators filmed the notorious Ursula Abbie O'Donnell live baiting at least nine greyhounds on her farm located just two miles away from the National Greyhound Association (NGA) headquarters in Abilene. Ms. O'Donnell is a longtime greyhound breeder and has a particularly corrupt history. She was arrested in 2002 for felony animal cruelty after being implicated in a scheme to kill thousands of unwanted racing dogs by gunshot on an Alabama farm. In the years since, she has been found with drug-positive dogs multiple times, has paid a substantial fine, but still retains her license in the states of Florida and perhaps West Virginia. The NGA has taken no public action against her at any time.
Please help end this horrific activity by contacting the US Attorney for the Eastern District of Oklahoma, the US Attorney for the Western District of Texas, the US Attorney for Kansas and West Virginia Governor Jim Justice today. Let them know that you want to see greyhound breeders punished to the full extent of the law. We have filed official complaints, but your voice is needed now to save lives and shut down this cruel industry!
---
Image credit: Jason Martin holding a jackrabbit. Image credit GREY2K USA.